Intelligent, Rugged and Dependable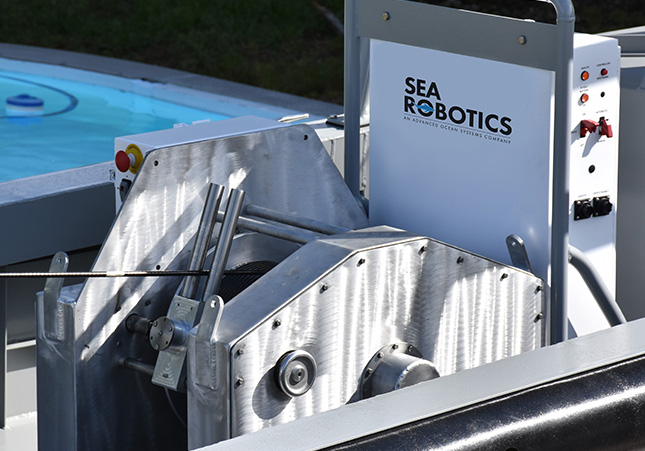 SR-Endurance 7.0—is our aluminum workboat class multi-mission ASV, suitable for a range of coastal and offshore operations. The SR-Endurance 7.0 has diesel-electric hybrid propulsion (allowing for a quieter operating mode needed for acoustic research), an automated A-frame boom type launch and recovery system (LARS) and can be operated as a manned or unmanned vessel. The level of autonomy can be configured per mission. Autonomy levels range from remote control (no intelligence/man in the loop), basic (minimal intelligence), mature (manned oversight), and advanced autonomy (man out of the loop/full automatic mission implementation).

The LARS utilizes an aluminum electric winch, and instrumented overboarding sheave, a constrained docking head with home sensor, and an instrumented boom assembly driven by a closed loop hydraulic unit. The LARS is sized to allow for deployment of a small ROV system, such as the SAAB Seaeye Falcon. The winch pull force, boom lateral and vertical clearance, as well as the clearance over the transom, are designed to accommodate ROV deployment. For survey applications, the interface works seamlessly with HYPACK and QINSy, allowing for real-time survey planning, execution, visualization and post processing hydrographic datasets.
Onboard sensors
RADAR
LiDAR
Day/Night PTZ cameras
Weather Station
Hydrographic Winch
Line capacity: 120m of 13mm DIA cable
Max line pull (bare drum): 113kg
Integrated slip rig
Our recently launched SR-Endurance 8.0 model features an exclusive hydrographic winch coupled with a simple A-Frame over-boarding assembly, including an instrumented over boarding sheave capable of launching and recovering additional ride-on assets, such as ROVs. The system is equipped to deploy various towed instruments, or 100 kg deployable payloads.
The SR-Endurance 8.0 features a self-righting aluminum monohull and is fully operational in seas generated by Beaufort Wind Scale 7 (waves up to 4 meters). The ASV will survive in Beaufort Wind Scale 9, (waves up to 7 meters). The direct drive electric propulsion system can achieve speeds of 10+ knots, with an efficient cruise speed of 5 knots, providing smooth speed control throughout the entire speed range, including transition from forward to reverse.
MBESs, DVLs, ADCPs, USBLs and acoustic modems can all be deployed through the moon pool, while HD, full color video cameras provide a 360-degree field of view in daylight and low light operations, while also feeding the image-based obstacle detection and classification system.
The SR-Endurance 8.0 can carry out uncrewed missions of up to 14 days, uninterrupted, making it the ideal platforms for conducting offshore inspection, ocean research, and ongoing marine surveillance operations.
Onboard sensors
RADAR
LiDAR
Day/Night PTZ camera, multi-spectral FLIR camera system
Weather Station
The Hemisphere Vector V500 Smart Antenna GNSS
A SIMRAD Halo 20 Marine RADAR
A SITEX Class B AIS transceiver system
Four color HD video cameras
A dual frequency survey grade Echologger EU D032
Other echosounders can be provided
An Airmar 200WX IPX7 ultrasonic weather station
Hydrographic Winch / Moon Pool
1 meter x 1 meter x 18 inches moon pool for integration of single or dual head MBESs
Side scan sonars can be hull mounted, towed using the option hydrographic winch and A-Frame, or integrated into the MBES such as the EdgeTech 6205
DVLs, ADCPs, USBLs moon pool deployable
300lbs payload accepted