Intelligent, Integrated and Portable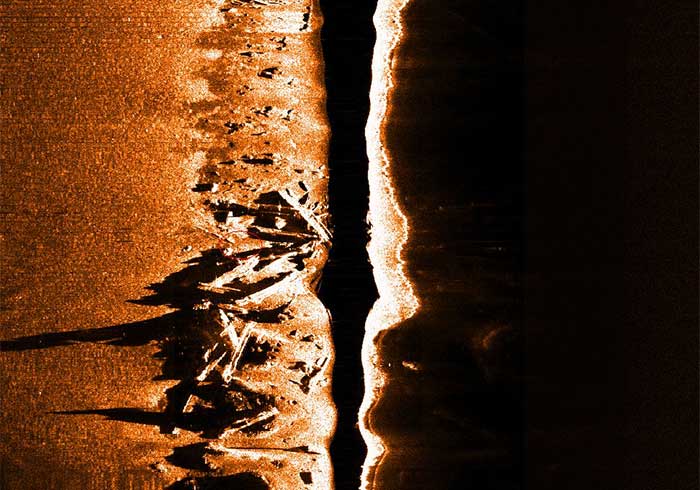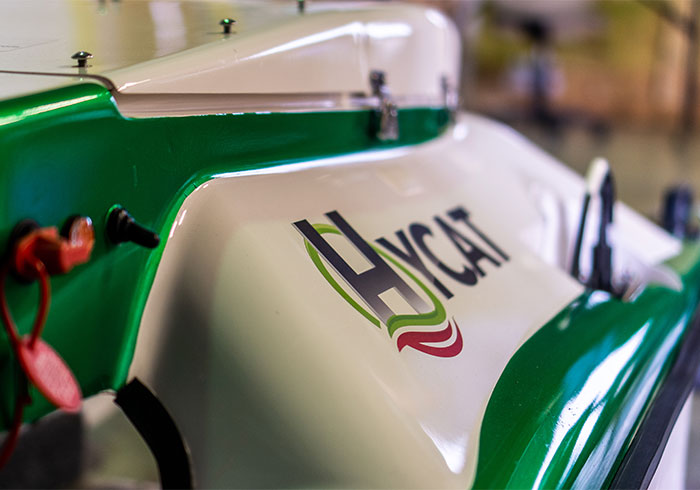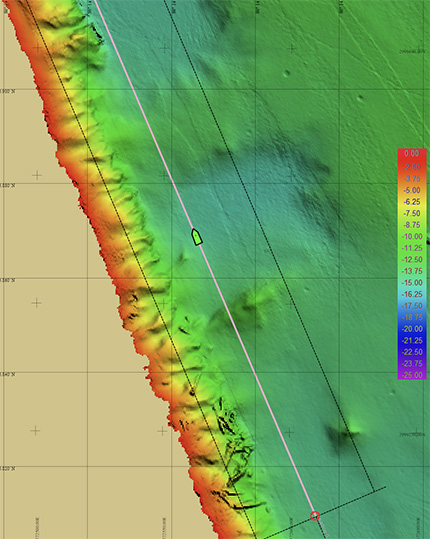 The SR-Surveyor M1.8 allows surveyors to simplify logistics and optimize data recordings in shallow and hard to navigate areas like no other ASV, making it the complete package for bathymetry, habitat mapping, structure inspection and search and rescue.

The key to the SR-Surveyor M1.8 is its M, or Multibeam Echosounder, which enables large swath data collection more efficiently and accurately. The payload bays, which are tightly packed into the pontoons, are designed to support ACDPs (Acoustic Doppler Current Profiler) or DVLs (Doppler Velocity Log), as well as an AML micro SV sensor to capture sound velocity measurements for the Edgetech sidescan sonar.
Terrestrial LiDAR
Central to the design of the SR-Surveyor M1.8 is a Velodyne Puck LiDAR for terrestrial mapping, a feature that offers a distinct advantage when it comes to inspecting coastal infrastructure, such as near-shore pipelines, bridges, piers, and underwater rigs. The LiDAR allows operators to capture a 360-degree view of all data points.

The SR-Surveyor M1.8 is the only man-portable system that offers such a diverse range of data sets simultaneously: two frequencies of side scan, motion tolerant side scan, wide swath bathymetry, backscatter, LiDAR point cloud data, and discharge data—all in a 1.8-meter package.
Onboard sensors
EdgeTech 2205 (special version)
540kHz bathymetry (8:1 coverage to depth ratio)
1600kHz high resolution side scan
540kHz motion tolerant side scan
Backscatter
540kHz low frequency side scan
SBG dual antenna RTK INS
AML micro SV sound velocity sensor
Sontek M9 ADCP for current profiling and bottom tracking
Applications
Wide swath bathymetry
Habitat mapping
Structure inspection
Search and rescue
Terrestrial mapping
HYCAT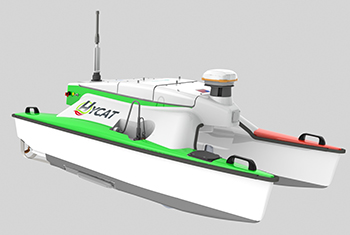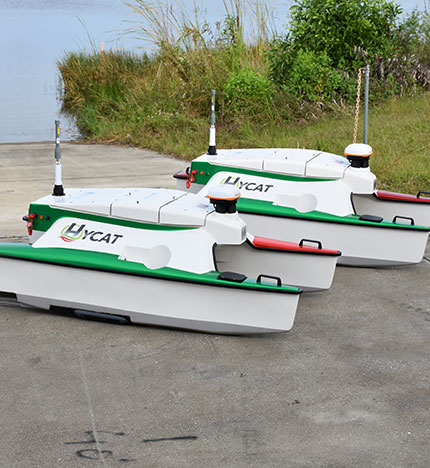 Launched in 2018, the HYCAT was designed from the ground up to set the bar for man-portable ASV survey systems. Developed in partnership with
Xylem Brands
(YSI, SonTek & HYPACK), this unique ASV combines sensors from multiple brands to provide a comprehensive water studies package for site monitoring. Sensors have plug and play capabilities, allowing the HYCAT to be customized to your specific site needs.
The HYCAT can also be easily launched in remote locations, without the need for dock access. The vessel can run in depths as little as 1 foot, making it invaluable for surveying hard-to-reach locations, and at less than two meters in length, the HYCAT is SUV-portable and rapid to deploy.
A Customizable Suite of Sensors
The HYCAT can be used for a number of applications thanks to the various sensor options available: Surface water quality monitoring, using the EXO2s, bathymetry and water velocity mapping, using the SonTek M9, sidescan sonar imaging, using the Imagenex 230kHz/360kHz/800kHz, all while running on one platform using HYPACK software, making mission planning, monitoring, and real-time data acquisition as intuitive as possible.

Optional sensor options include an AtlasLink RTK GNSS Receiver. Integration packages can also be supplied if a customer already has an M9 or EXO2s.
Onboard sensors
SonTek M9: RiverSurveyor &/or HydroSurveyor
Imagenex 230kHz/360kHz/800kHz side scan sonar
Hemisphere AtlasLink L1/L2/L5 GNSS receiver (RTK compatible)
(Optional) Impact Subsea ISA500 single beam sonar
YSI EXO 2 (Shorty) multiparameter Sonde
Applications
Bathymetry
Habitat mapping
Structure inspection
Water quality
Discharge measurements
Search and rescue
"On the Road" with the SR-Surveyor M1.8
One of our SR-Surveyor M1.8s recently hit the road and traversed the US east coast for a series of interactive demos. His goal, besides visiting current users of the system, was to introduce the SR-Surveyor M1.8 to several universities and research groups looking to acquire a hydrographic survey system for bathymetry studies, habitat mapping, structure inspection and search and recover operations.
The first stop was the MIT Marine Robotics Group (MRG), to demonstrate how the SR-Surveyor M1.8 could be customized to incorporate MRG's MOOS IvP kit to become an autonomous research vessel.
Next was University of New Hampshire (NHU), conducting a five-hour survey for six of the lead researchers at NHU. In particular, the demonstration illustrated the ability to navigate shallow and hard-to-access areas with maximum efficiency. The third leg of the tour was a session with BLKSail, a company looking to champion marinized autonomy and AI.
According to Lou Dennis, VP of Programs at SeaRobotics, the versatility of man-portable ASVs is the key to unlocking their true potential:
"On this trip alone, we are able to see just how a tightly integrated system of sensors can have such a broad application. Be it for commercial or academic use, gaining quick access to increasingly accurate hydrographic data is going to become a distinct competitive advantage for surveyors. The SR-Surveyor M1.8 was designed to empower such professionals." If you'd like to get in touch with an ASV specialist or find out about future demonstrations,
contact SeaRobotics today
.
Quick access to increasingly accurate hydrographic data is going to become a distinct competitive advantage for surveyors